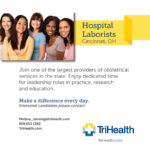 Website TriHealth
We are seeking ObGyn Hospitalists to join our growing Department of Obstetrics and Gynecology as part of TriHealth Women's Services.
You will partner with our team of ObGyn Hospitalists to guide development of standards for intrapartum care as well as to educate, supervise and provide direct care for patients served by TriHealth Women's Services. Candidates will have dedicated time to participate in leadership roles relative to interests in practice, research and education.
TriHealth Women's Services physicians work together to improve the lives of women and their families by offering a wide range of services and compassionate care to women at all stages of life. As one of the largest providers of obstetrical services in the state and the largest provider of obstetrics in Greater Cincinnati, Bethesda North and Good Samaritan hospitals welcome more than 10,000 babies each year.
OBGYN specialties represented through our Department of Obstetrics and Gynecology include:
Obstetrics and Gynecology throughout the region
Urogynecology and Gynecologic Oncology
Comprehensive Maternity, including leading high-risk care
Advanced breast care
Nurse Midwives
Reproductive Endocrinology (Fertility, Menopause and PCOS)
The department supports 32 residents and three fellows through a number of accredited training programs.
Qualifications for consideration include board-certified, board-eligible ObGyn physicians. Additionally, candidates should possess a strong interest in one or more of the following:
Team-based Perinatal care
Healthcare policy for provision of Obstetrical care
Obstetrical care education for residents and medical students
Scholarly activities
Join a team that makes a difference every day. Attractive relocation packages are available. Interested candidates please contact:
Melissa Jansing, TriHealth Physician Recruiter
melissa_jansing@trihealth.com
859 653 1392 cell